News & Events
Nativity's Pictorial Directory Sign-ups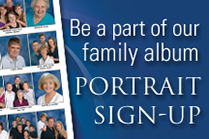 Nativity will have a pictorial directory put together by Lifetouch. The photos will be taken April 1-5. However, parishioners are encouraged to sign-up online. By doing so you will receive a $10 gift certificate in addition to your free 8×10 photo.
Fishers of Men
Nativity's chapter of Fishers of Men meet every Saturday after the 8 am Mass in Stelling Hall. The gathering time is one hour. Änd He said to them, follow me and I will make you Fishers of Men." Mark 1:17.
Contact Walt Hanna at (901) 385-8277 or (901) 857-4069 for more information.
St. Vincent dePaul
The new SVDP Soup Kitchen is now open.
On September 24, 2013  four volunteers from Nativity fed 130 people. The next Soup kitchen is October 15, 2013. Volunteers meet at 8 am at Nativity on the 1st, 3rd, & 4th Tuesday of each month. If you would like to volunteer, there is a sign up sheet on the table in the Narthex.
For more information, contact John Walton (901) 568-0910. October's Tuesdays are the 1st, 15th, & the 22nd.