News & Events
Parish Picnic is Tomorrow
Please mark your calendars; Sunday, June 7th is the Parish Picnic celebrating Nativity's 36th Anniversary. I begins right after the 10:30 Mass and goes until 5:00 p.m. We ask that each family attending to bring a dessert. Gil Morris' BarBQ will be served and the Filipino community is providing lumpias and pancit.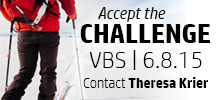 Welcome to Everest: Conquering Challenges With God's Mighty Power
This VBS promises to be mountains of fun! Plus, kids walk away with a rock-solid faith that they can rely on God when life gets tough. Join our climbing team―register to be a part of Everest VBS!​
Each day, kids participate in small groups, called Climbing Crews, and discover practical ways to hold on to God's mighty power! Not only will they experience exciting Bible adventures but they'll also watch for God in everyday life through something called God Sightings™. You and your kids will discover that God is active in our lives and that His fingerprints are everywhere!
Everest is filled with epic Bible-learning experiences kids will see, hear, touch, and even taste! KidVid Cinema shares real stories of real kids who rely on God's power to face life's challenges! Plus, team-building games, cool Bible songs, and tasty treats keep everyone on the move.​
Want to become Catholic?
The Rite of Christian Initiation of Adults at Nativity is on-going. If you know anyone who may be interested in joining the Catholic Church, please invite them to the RCIA to simply inquire about the Church as they discern their journey of faith. More info.
Fishers of Men
Nativity's chapter of Fishers of Men meet every Saturday after the 8 am Mass in Stelling Hall. The gathering time is one hour. Änd He said to them, follow me and I will make you Fishers of Men." Mark 1:17.
Contact Walt Hanna at (901) 385-8277 or (901) 857-4069 for more information.
St. Vincent dePaul
The new SVDP Soup Kitchen is now open.
On September 24, 2013  four volunteers from Nativity fed 130 people. The next Soup kitchen is April 7th. Volunteers meet at 8 am at Nativity on the 1st, 3rd, & 4th Tuesday of each month. If you would like to volunteer, there is a sign up sheet on the table in the Narthex.
For more information, contact John Walton (901) 568-0910. April's Tuesdays are the 7th and 21st..