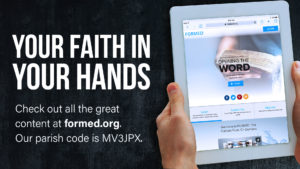 Father Robert invites you and your family to become members of the Nativity FORMED community, and take advantage of this FREE online repository of movies, video studies, an audio bible, audiobooks, testimonies, inspiring talks, and e-books, which will strengthen your faith and increase your knowledge of the teachings of the Catholic Church.
INSTRUCTIONS FOR REGISTERING ON FORMED:
Click on

Register

in the lower right hand corner of the formed.org page under the "Opening the Word" display window image.

Enter the 6 digit, case sensitive, parish code and your email address and click "Go." Nativity's code is:

MV3JPX

(all caps)

Enter your personal registration information requested and click "Submit"

You'll be asked to check your email for an email verification message to verify your email address for our identity system.

In the email verification message, click on the blue button which states "Click here to verify your email"

If an email from FORMED has not come through within about a minute, please check your "Spam" or "Junk" email folders for the email message.

Once clicked, your email is verified and you may LOGIN to formed.org.

If you have questions or have problems registering, please consult the FORMED

help page

at

https://help.formed.org/support/home

.