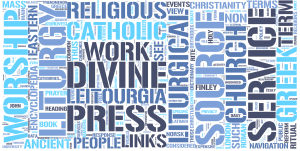 Since Vatican II in 1962, the role of the lay person has become very important in the Church. This is most evident when we go Mass. There are now a number of ministries that work together to make the celebration of the Mass a holy and memorable experience. The ministers you see every Sunday are : Master of Ceremonies (MC), Sacristan, Lectors, Eucharistic Ministers, Altar Servers, Greeters, and Ushers.  Each of their individual roles adds to the overall holy experience of the Mass.
The role of the MC is to make sure all goes correctly, help the celebrant in any way, and instruct the Altar Servers.  The Sacristan prepares the altar prior to Mass, clears the Altar after Mass, and insures that all the ministers are present. The roles of the Lectors, Eucharistic Ministers, Altar Servers, Ushers, and Greeters are obvious, but each is just as important as the other.Lectors and Eucharistic Ministers need to go through Diocesan Training before being scheduled at Nativity.
Each of the ministers need to be trained. All of the ministers are trained by Jim Lippy. Each scheduling period covers two months starting with the Jan./Feb. period.
For more information or questions regarding training and scheduling contact:
Jim Lippy
(901) 388-6515
(901) 371-6269