Church of the Nativity's Music Ministry
…is a group of many generous and talented people working together to encourage the participation of and enhance the worship at our liturgical celebrations.  There are opportunities for people of all ages to participate in Nativity's Music Ministry.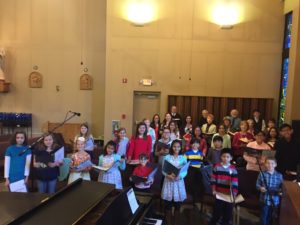 The Parish Choir is open to all parishioners from 15-105.  The ensemble rehearses every Wednesday from 7:30-9pm, and sings every Sunday for the 10:30 Mass, in addition to solemnities and other high holy days.  No prior music experience is required and all are welcome!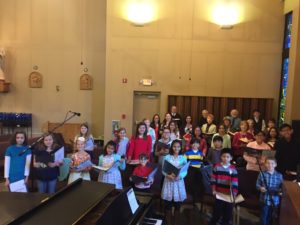 The Children's Choir is open to all kids grades 2-9 and rehearses every Wednesday from 5-5:45pm.  The ensemble sings about once a month for the 10:30 Mass.  The kids learn the music for Mass, of course, but they also learn proper vocal technique, musical literacy, sight singing, and musical and church history.  Come check us out!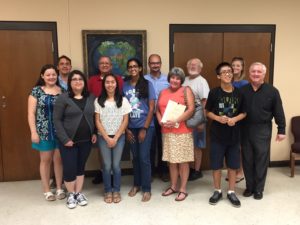 Our cantors are the most visible members of Nativity's music ministries.  We strive to have a cantor lead the music for every Mass.  Musical literacy and competency is required to serve as a cantor, and Dr. Scott is happy to work with individuals who want to try this out.
In addition to the band, we welcome other instrumentalists to take part in leading music for Mass.  We currently have as many as four flautists who play regularly for 10:30 Mass, and we would love to expand our instrumental capabilities.  Play an instrument? Try it out!
The Nativity Band has recently re-formed to help lead music the 2nd and 4th Sundays of the month for the 10:30 Mass.  We welcome instrumentalists of all types.  Our singers are drawn from the choir and are always welcome to the band's rehearsals, currently on the 2nd and 4th Sundays of the month from 1-2:30pm.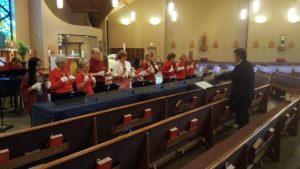 The Handbell Choir is open to all parishioners 15-105 and rehearses every Wednesday from 6-6:50pm.  The bells play about every six weeks, and members learn about music, handbell technique, and have an overall good time!  A little bit of prior musical experience is helpful but not required.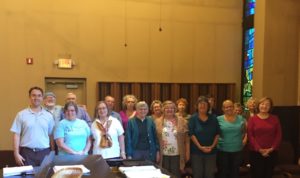 The Resurrection Choir is open to all parishioners 15-105 and rehearses every other Tuesday from 10-11:30am.  A unique ministry in our Diocese, this ensemble sings for all parish funerals.  The choir practices the funeral repertoire but also learns a bit of music theory and music history!
About the Music Director
As Music Director/Organist at the Catholic Church of the Nativity in Bartlett, TN, Dr. Scott Elsholz leads a vibrant music ministry of five vocal and instrumental ensembles.
Previously, he served as organist at St. John's United Methodist Church in Memphis, Canon Organist/Choirmaster at St. Mary's Episcopal Cathedral in Memphis, where he led a comprehensive cathedral music program, was responsible for developing larger diocesan-wide music and liturgy initiatives, and served as artistic director for the Music at St Mary's concert series in addition to Episcopal and Lutheran parishes in Michigan and Indiana.  He has also previously worked as an adjunct organ/church music professor at Eastern Michigan University and he developed a new church music curriculum for undergraduate organ students at Indiana University.
In 2013, Scott was awarded Doctor of Music degree summa cum laude in Organ Performance/Literature at Indiana University, where he studied with Drs. Marilyn Keiser and Larry Smith. He also served the Jacobs School of Music as an Associate Instructor, teaching undergraduate and graduate courses in Church Music, Piano, and Music Theory.
Scott earned his doctorate in Organ Performance/Literature summa cum laude from the Jacobs School of Music at Indiana University and received his B.M. and M.A. degrees in organ performance from Eastern Michigan University, where he studied organ and improvisation with Dr. Pamela Ruiter-Feenstra. As a student at Eastern Michigan, Scott received many awards and honors, including first prize in the prestigious Graduate Music Competition. He served the music department as a university fellow and as a graduate assistant in music theory and was later named Adjunct Professor of Organ following Pamela Ruiter-Feenstra's retirement.
Scott has concertized extensively and has performed in numerous master classes and organ/improvisation seminars. He was named an official competitor in the 2006 American Guild of Organists National Young Artists Competition in Organ Performance. In 2001, he was selected as a participant in the Smarano Organ and Clavichord Symposium held in Smarano, Italy and has been sought after as a teacher and clinician.
Scott lives in Memphis with his 5-year-old daughter Clarabella whose inquisitive mind and unbridled joy inspire him every day. As a family, they enjoy cooking together, playing tea party, and pretending to be superheroes.
Scott Elsholz, DM
Director of Music
Church of the Nativity
5955 St. Elmo Rd.
Memphis, TN  38135
Contact the Music Director