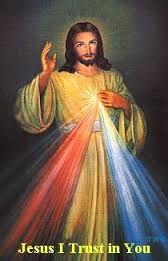 It may seem odd that we begin a novena in the middle of the Easter Triduum that culminates on the Sunday after Easter, Divine Mercy Sunday, yet the Divine Mercy Novena only serves to amplify the Paschal Mystery — the whole mystery of the death, burial and resurrection of Christ — made present for us in the Eucharist.
Liturgically the Easter Octave, which begins on Easter Sunday, has always been centered on the theme of Divine Mercy and forgiveness. It sums up the whole Easter Octave. As Pope John Paul II pointed out in his Regina Caeli address on Divine Mercy Sunday, 1995: "the whole octave of Easter is like a single day," and the Octave Sunday is meant to be the day of "thanksgiving for the goodness God has shown to man in the whole Easter mystery."
Divine Mercy Sunday points us to the merciful love of God that lies behind the whole Paschal Mystery. It recovers an ancient liturgical tradition, reflected in a teaching attributed to St. Augustine about the Easter Octave, which he called "the days of mercy and pardon," and the Octave Day itself "the compendium of the days of mercy."
Given the liturgical appropriateness of the title "Divine Mercy Sunday" for the Octave Day of Easter, therefore, it is altogether appropriate for us to begin the Divine Mercy Novena today, Good Friday.